Overview
Unlike the past, when separate kitchen appliances were required to perform individual processes, like a juicer was required to prepare juices, a beater was used to beat dough and mixers were used to make purees. The Jaipan hand blender is one multi-purpose kitchen appliance that can be used to mix, puree or blend food and other ingredients. This does not cost a lot and is extremely budget-friendly. The hand blender is unmatched in terms of quality and comes with a 1 year warranty. The motor is powerful and has a time rating of 3 minutes at a time. It is easily portable as it weighs merely 1.5 kg. It can be mounted on the kitchen wall using brackets and screws. You can buy this sturdy blender on Snapdeal at a great deal of a price and use this ideal hand blender for your home or commercial kitchen.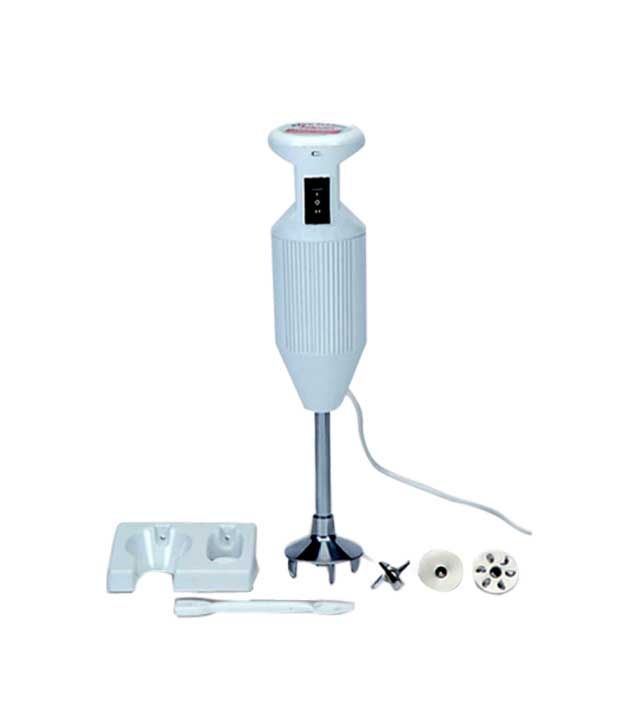 Powerful Motor
The motor of this hand blender is powerful and gives a speed of 12000 RPM. With such a powerful motor, the blades run fast and blend substances thoroughly.
Stainless Steel Blades
The blades of the Jaipan hand blender are made with premium quality stainless steel. This blender has the ability to provide whipped cream in no time and soups and sauces get better texture once they are blended with this blender.
Low Power Consumption
The source required to power the Jaipan hand blender is 230 V, AC 50Hz. It utilises a maximum power of merely 200 Watts. The cost to operate this electric hand blender is extremely low and that is just one of the many features of this product.
Easy to Use
This easy-to-use blender from the house of Jaipan comes with 2 speed functions that facilitate easy use. Substances requiring a high power can be blended using the high speed function while those requiring mere mixing can be quickly mixed with the low speed function.
Easy to Clean
With a body that is made using high-quality material, this blender can be easily cleaned with a cloth to get rid of those stains it got from all the blending.
Easy to Hold and Portable
The dimensions of the Jaipan hand blender are 23 x 11 x 34.5 cm and it weighs just 1.5 kg. This portable hand blender can easily fit in a travel bagand can be taken anywhere you go.