Jaipan air fryer is an electric fryer and has an aluminium cooking pan. The material coating of the pan will help you in faster cooking. The power consumption is limited to only 1000 watt. Thus, the energy efficient fryer will be a valuable addition to your set of kitchen appliances. Covered with a black and sturdy body and accompanied by a steel lid, the structure of the fryer gives it a new look and elegant design. The size of the body is compact and hence, it becomes easy to store the fryer in your kitchen as it does not take much space. Up to 80 % lesser fat, from frying your dishes in oil, the Jaipan air fryer ensures you healthier and faster food. Keeping under count all the add-on features this product is delivering, it becomes an all-rounder product providing a safe and healthy cooking experience from all aspects.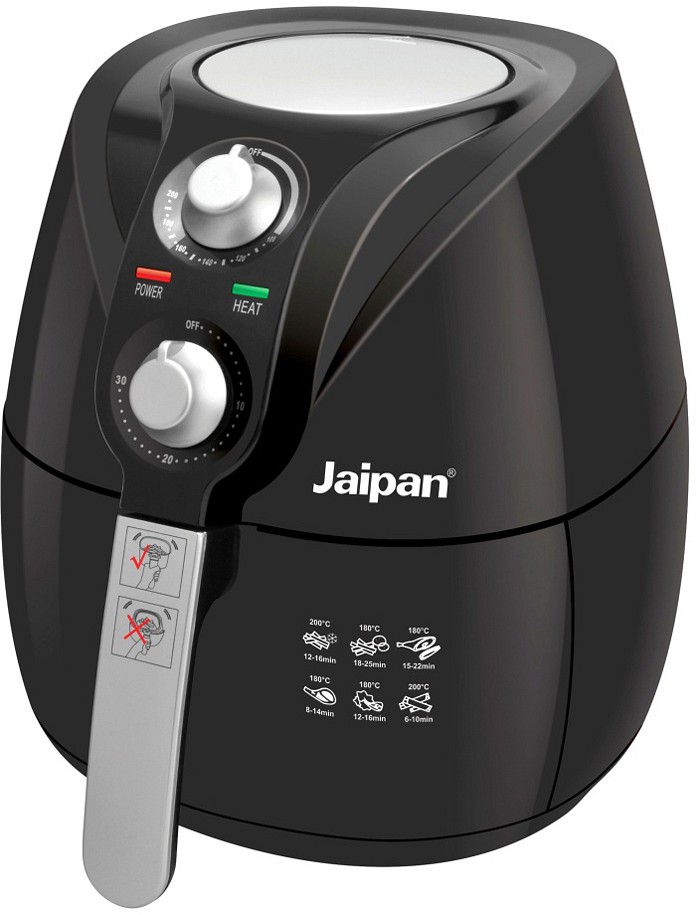 Capacity
The electric fryer has a decent capacity of 800 g. Not too much, not too little, the capacity is just about right for your daily household usage.
Material
The air fryer has an aluminium cooking pan and stainless steel lid; this increases the durability of the body of the appliance. The overall material coating makes it an easy-to-clean cum easy-to-use fryer. The durable fryer will help you go a long way with an equally magnificent cooking experience.
Temperature and timer controls
It has a 30-minute timer, therefore, your food will not get over cooked. The adjustable thermostat and temperature light helps you to keep the temperature under monitored control.
Air technology
The Jaipan air fryer has a patented rapid air technology. High-speed air circulation fries your delicious food and does not make it greasy and unhealthy. This automatically has an effect of high power performance for faster and healthier cooking.
Non-slip feet and power cord storage
The bottom of the appliance is not slippery and hence prevents from any damage. Also, the Jaipan air fryer has a power cord storage within the appliance. This prevents your kitchen from looking messier and haphazardly maintained arrangement of items.
Unique food basket
The food basket provided in the fryer has unique features. It is detachable, therefore, it becomes easy to use the basket plus it becomes easy to clean. The basket has a non-stick coating and therefore you end up using much lesser oil than you may have used before.
Technical
Capacity
2.5 litres
Power Consumption
1000 watts
Warranty
Warranty Period
1 year
Warranty Type
Seller Warranty
Warranty Terms
Warranty of the product is limited to manufacturing defects only